Legrand's intelligent Vantage home automation and lighting control system combines advanced technology, simplified software and the latest products, for one-touch control of electrical functions in commercial, residential and luxury marine applications.
The Vantage system, which ensures elegant and easy integration of technology into a lavish environment, offers personalized solutions for exact lighting requirements - by controlling artificial and natural lighting. The flexibility of this system also provides precise solutions for climate control and sound diffusion. 
The Vantage Controls system is suitable for single-room lighting control and is easily customized for an entire house, office or hotel lighting automation project.

According to Legrand, key benefits are flexibility and functionality, user comfort, improved safety and energy efficiency, as well as adherence with green initiatives. Although this system is easy to operate, initial planning and programming of the installation is important.
This lighting system is controlled through Vantage keypads, touchscreens or Equinox apps. Other products include InFusion controllers, dimming modules, sensors, timers and thermostats – all with a modern design for enhanced aesthetics and increased capabilities.
The Vantage system has simple screens, similar to a smartphone, with an intuitive Equinox user interface and simple keypad, that enable users to operate the system without formal training. Changes to settings can be made as often as is necessary, until the user is fully satisfied with scenarios. It is easy to add or remove features, with a swipe of a finger. Pre-programmed widgets - or applications – are embedded in the screen design to include lighting, weather, climate, scenes, shading and timers.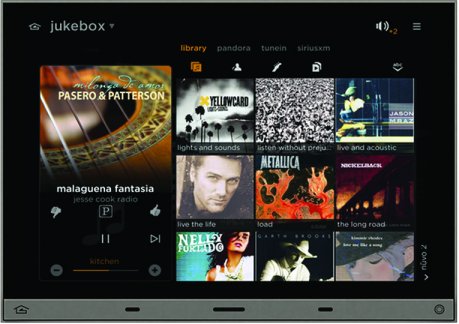 By integrating electrical functions of the establishment into the InFusion control platform, users are able to easily control lighting, temperature and audio/visual, from any room in the building. A simple mobile app enables full control and monitoring of the installation remotely, from anywhere in the world.
Personalized settings, with multiple profiles, enable the programming of scenarios to suit the needs of all users in the establishment. Typical applications include one-touch lighting controls for on, off and dim in one room, or for the control of all lights on an entire floor or building. It is easy to adjust the temperature in a room for personal comfort and energy savings and to set the shutters to open in the morning and close in the evening. A single touch to saved scenarios for lighting illuminance, music selection or temperature control, sets the scene at any time or for a special event. 
InFusion controllers - the main brain of the system - are available as a IC-DIN-II Lite controller and IC-DIN-II controllers, with Lithium battery back-up.
The Vantage solution offers co-ordinated dimming of all lighting loads, including incandescent, fluorescent and LEDs. The dimming module, which is mounted in a main or secondary power enclosure, is designed for expansion. With one controller, the centralized lighting system allows for up to 120 stations and with multiple controllers (up to 31) each with its own station bus connection, the system can control 120 on bus and 60 on Ethernet.
Legrand mini sensors, which are discretely flush-mounted to avoid clutter, are the smallest sensors available.
What's also important, is Vantage has been designed to accommodate new installations and retrofit (wireless) projects, as well basic layouts that will eventually be extended to complete automated installations.
Legrand SA, through its network of accredited Vantage system integrators, offers the local market an advisory service for system selection, design and synchronization. Assistance with programming implementation and on-going support is also provided.
Vantage Controls offers a five year manufacturing warranty on lighting controls and automated solutions.
Additional Information
Vantage Controls – a Legrand brand - has received many prestigious global awards, including the Electronic House 2017 Product of the Year and Architectural Record's Product of the Year in 2016.